ARCS Member Cecelia ("Cece") Foxley's face is now immortalized in a mural alongside a building in downtown Salt Lake City, Utah. Foxley was one of 268 women honored as Utah's most influential women—past and present. 
The 5,000-square-foot, five-story art piece titled "Utah Women 2020" was created by artist Jann Haworth, known for co-designing the 1967 iconic album cover for Sgt. Pepper's Lonely Hearts Club Band by The Beatles. Joined by 178 volunteers, Haworth and her son, Salt Lake City muralist Alex Johnstone, worked on the project for more than a year before the mural was unveiled publicly in August 2020.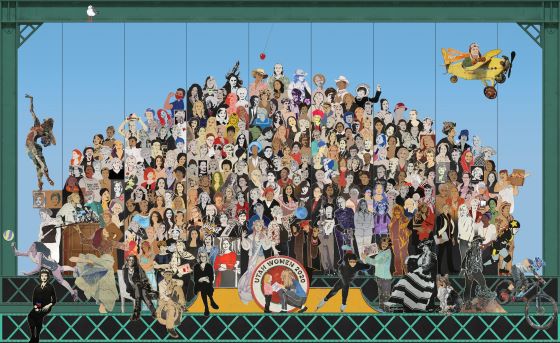 The "Utah Women 2020" mural depicts 268 of the state's most influential women – past and present. ARCS Utah Chapter Founding Member and Past President Cecelia ("CeCe") appears on the left side in Section A. (Courtesy: https://womensmural.com/)
The colorful collaboration celebrates suffrage milestones in 2020, such as the 150th anniversary of the first Utah woman allowed to vote under an equal suffrage law, the 55th anniversary of the Voting Rights Act, and the 100th anniversary of the Nineteenth Amendment to the US Constitution, granting American women across the nation the right to vote. 
Foxley achieved historic milestones of her own as an early advocate of civil rights and affirmative action. During her tenure on the faculty of University of Minnesota (UMN), she chaired a committee investigating whether the school had "fair and equitable" practices in place.
"The committee interviewed students, faculty, and staff to see if they felt they were fairly treated," Foxley explains. "The university's president asked me to recommend changes, and I revised the institution's policies so there would be no discrimination due to age, gender, sexual orientation, race, or home country."
Those policy changes were also viewed by the president of University of Iowa (UI), who offered Foxley a position in 1972 as the university's first Affirmative Action / Equal Opportunity Officer. In this position, Foxley reviewed policies and practices to ensure fair and equitable treatment. She recommended eliminating questions on the school's applications and other forms that were asked of women but not of men—for example: "Are you married, single, or divorced?" "Are you planning on having a family?" She was also instrumental in developing equal opportunity employment guidelines and ensuring more women were hired as faculty members within the university.
In 1981, Foxley continued to shatter the glass ceiling when she returned to Utah and became Assistant Vice President for Student Services at Utah State University (USU). She was one of only five women to hold the title of professor and the only woman in the university's central administration.
Several years later, Foxley ascended into positions within the Utah System of Higher Education. She opened up more opportunities for women in the education field as the only female commissioner of the Utah System of Higher Education for more than ten years. She still holds the record for the longest-serving senior executive in the state's higher education system, having also served as Associate Commissioner for Academic Affairs for three years and Deputy Commissioner for five years.  
"Some of my accomplishments during that time include requesting funds from the Utah legislature for all of the state colleges and universities, hiring new presidents for these institutions, organizing a collaboration between schools that would benefit students, and raising money for scholarships," she notes.
During her time as a commissioner, Foxley also made it a priority to encourage students to pursue careers in STEM-related fields. That objective led her to become a founding member of ARCS Utah Chapter in 2009 and the chapter's first president. She still serves on the ARCS Utah Board.
Foxley earned a PhD in educational psychology from University of Utah and has received a number of awards for her lifelong dedication to serving the state, including an Honorary Doctorate in Education from Utah State University in 2007 and a Lifetime Achievement Award from the Center for Women and Gender in 2014.
Foxley says she is proud to be included in the "Utah Women 2020" mural and hopes her educational efforts will continue to inspire young women.
"I would like to be remembered for my contributions to higher education in Utah," she says. "Being the first woman to hold many positions helped me encourage other women to do the same. I continue to urge young women to attend college, complete graduate degrees, and look for interesting positions that make a difference."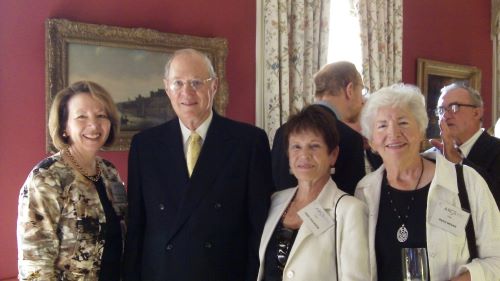 (From left-right) Cecelia "CeCe" Foxley (left) stands with former US Supreme Court Associate Justice Anthony Kennedy, and ARCS Utah Chapter Members Anne Erickson and Ruth Novak, during a special event. (Courtesy: CeCe Foxley)