Studies show that Americans' trust in science and scientists surged in 2020—a likely consequence of the pivotal role that both played in combating the COVID-19 pandemic.  However, if the last twelve months of confusion and conflicting information have taught us anything, it is that the intersection between science and society is complicated—something Dr. Christopher Volpe knows firsthand.
An ARCS Scholar Alumnus, Volpe is currently the executive director of ScienceCounts, a nonprofit organization committed to supporting science and scientists, as well as enhancing public awareness of, and support for, scientific research.
"Since World War II, the US has been the center of an unprecedented scientific and technological revolution," Volpe says. "We've been a beacon of light when it comes to science—and I believe that maintaining our country's scientific leadership and prestige is crucial not only for the health and prosperity of our nation but also for the well-being of the world."
Even though a vast majority of Americans associates the word science with hope, optimism, and a path to a better future, a series of scientific studies conducted by ScienceCounts since 2015 reveals that more than half of the American populace thinks the loss of American leadership in STEM would not have a negative impact on their lives.
These studies also reveal that only one in four Americans thinks the role of government in funding science is necessary; instead the majority trusts that corporations and philanthropists can drive innovation alone.
Volpe recognizes the long-term dangers these findings pose. "Today's public opinion becomes tomorrow's national policy," Volpe cautions. Economic prosperity, national security, and advances in public health in the US have for generations depended on robust coordination and support for scientific research at the federal level.
"It would be difficult to imagine a bright future for the US if the country were to become a second-class STEM power," he states. Without federal investment in the scientific research enterprise, he maintains, our nation would no doubt lose its competitive advantage in the global marketplace. Top scientists would take their talent and ideas elsewhere, posing a real threat to America's greatness, as well as to the long-term welfare of our people.
In November 2020, almost a year after COVID-19 swept across the United States, ScienceCounts conducted another opinion study. Volpe immediately noticed an uptick in people's perceptions of the value of science.
In addition, "Americans' trust in scientists to accurately report their findings and act in the public's best interest also increased, likely because of the roles of scientists in addressing the pandemic," Volpe explains. "Yet, despite their trust and value of scientific research, many Americans are comfortable with the US outsourcing scientific innovation abroad—much like we've done with manufacturing in the last 30 years—and that's alarming."
To combat this indifference in the US, ScienceCounts is working with scientific companies, philanthropies, national laboratories, and university programs such as the Alan Alda Center for Communicating Science at Stony Brook University, to create a "social movement for science."
The movement has two main goals: to strengthen our national policies for science, and to rekindle public support for STEM research.
"Most Americans equate science with hope, and they want scientists to succeed. But as a society, we've started to take for granted the commitment of resources and people to sustain scientific innovation," Volpe explains. "The remarkable achievement of COVID-19 vaccines in record time is a perfect example of what is possible when government, industry, academia, philanthropy—and the public—rally to get something done."
ScienceCounts is committed to helping connect the dots. One way, Volpe says, is by encouraging scientists and scientific institutions to communicate the impact of their innovations on people's everyday lives. In other words, by making science and scientific research relatable.
The organization has conducted extensive opinion research and science communication activities. It has hosted countless public conferences, focus groups, and communication workshops, all with the primary goal of building awareness of the link between STEM research development and the quality of our lives in America. If we tailor our messages more effectively, Volpe contends, we can win over the "back seaters" and make them more supportive of scientific research organizations across our country.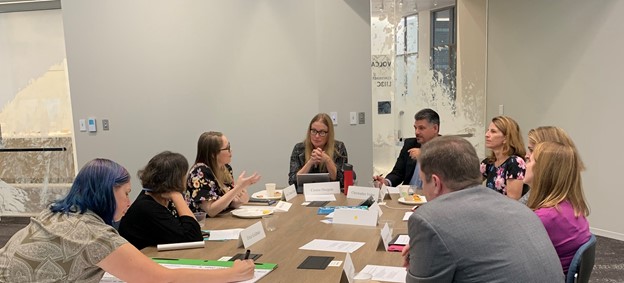 First meeting of the Society Civic Science Initiative (Washington, DC, January 2020), a new collaboration among professional science societies and scientific philanthropic organizations with the goal of increasing the benefits of science in underserved communities. Chris Volpe co-leads a discussion with Cristin Dorgelo (left center), President and CEO of the Association of Science and Technology Centers (a society representing science centers and museums in the US) and Chief of Staff of the Office of Science and Technology Policy in the Obama administration. Photo courtesy of Dr. Christopher Volpe
Volpe knows how helpful these organizations can be in supporting burgeoning scientists and researchers. He was a four-time ARCS Scholar Award recipient (1992–1995) while pursuing a PhD in oceanography from Scripps Institution of Oceanography at University of California, San Diego. He recounts his personal ARCS story in this moving five-minute video.
"The greatest value of ARCS for me was knowing that a group of remarkable women decided to invest in my work and invest in me. As a young scientist, the support from ARCS was empowering," Volpe says.
That support has come full circle for Volpe, as he acknowledges the similar missions of ScienceCounts and ARCS Foundation in advancing science and innovation in America.
"Americans are looking to science to deliver on its promise of a more hopeful future. By supporting early career scientists, ARCS is transforming that promise, that hope, into a reality."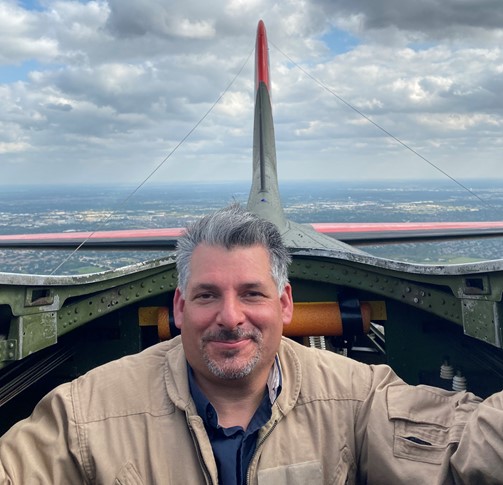 Besides his enthusiasm for promoting science to the public, Dr. Volpe is a senior pilot for the Commemorative Air Force, an aviation education museum that maintains the world's largest collection of flying WWII aircraft. Photo courtesy of Dr. Christopher Volpe