Being able to control one's environment through thought may seem like science fiction, but the advance of technology has brought a new reality to people with paralysis.
ARCS Scholar Nathan Brantly and his research team at University of Pittsburgh are studying neural stimuli in two participants with tetraplegia. Also known as quadriplegia, tetraplegia is paralysis caused by illness or injury that results in partial or total loss of use of all four limbs and torso. The loss is usually sensory and motor, which means that both sensation and control are affected.
Brantly believes implanted electrodes in the brain may be key in assisting people with tetraplegia regain function of their arms and hands. He is conducting research into intracortical brain-computer interface (BCI) technologies based on findings that movement-related activity can be recorded from the motor cortex portion of the brain and interpreted by a computer, thus providing an alternate neural pathway to control devices, such as a robotic arm or hand.
The participants in Brantly's studies have four electrode arrays implanted in two areas of the brain: the primary motor cortex that controls arm and hand movements and the primary somatosensory cortex, which relates to touch sensations. A hundred tiny electrodes are embedded in each implant.
BCI technology records and decodes neural stimuli to create motor control. Sensors encode electrical microstimulation and provide sensory feedback.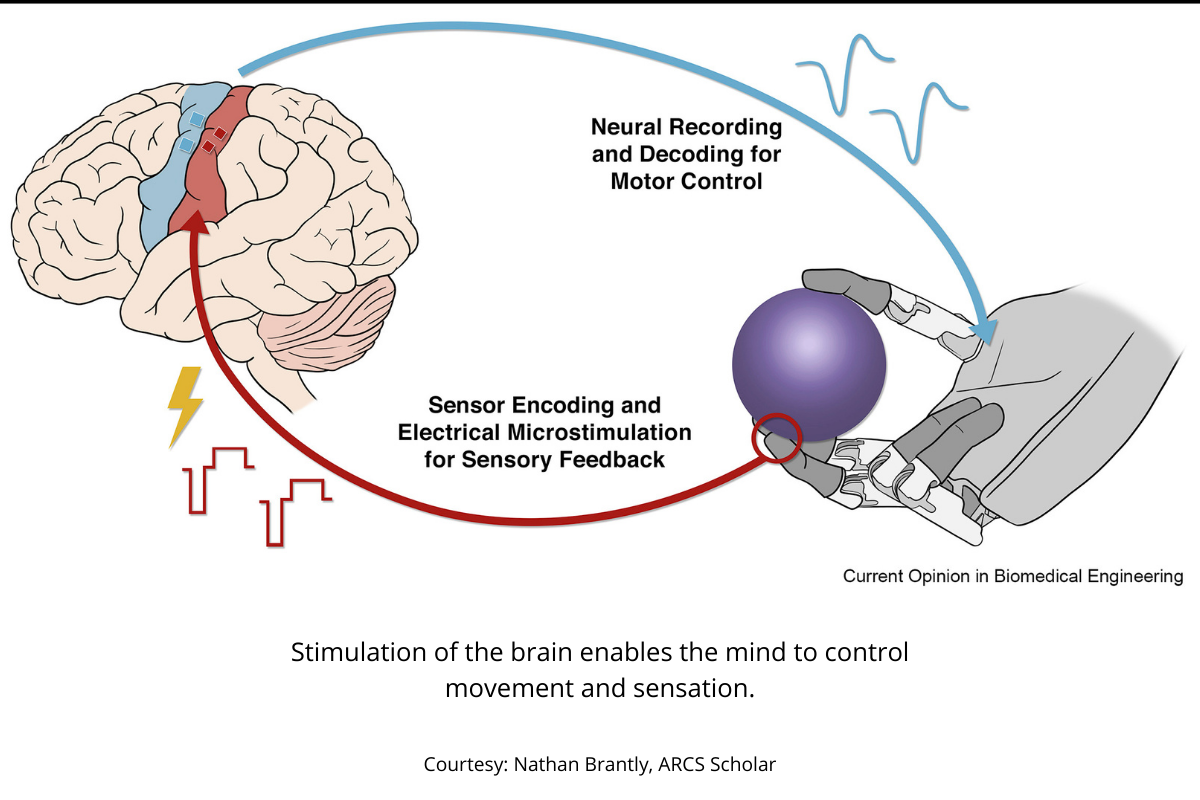 "We stimulate the electrode arrays at a particular amplitude and ask our participants what they feel," Brantly explains. "Sometimes they tell us they feel a light touch or pressure in the robotic arm or hand. We use that information to control the motor area of the brain to decipher what it wants the arm or hand to do. If the fingertips of the robotic hand touch an object, we electrically stimulate a touch region of the brain to provide the participant with touch sensation."
Using computers to directly interface with the human brain and nervous system will help Brantly's team develop rehabilitation technologies and assistive devices such as robotic arms and cursory controls that will allow patients with tetraplegia to perform computer functions strictly by using their minds.
"That ability could restore their communication skills, empower them to find computer-related jobs, and return to work," Nathan states. "One of our participants really liked to play videogames, so my team trained him to use a cursor movement decoder. Now he can play computer games just by using his mind."
Brantly's passion for BCI research began while working for a prosthetics company after receiving a bachelor's degree in biomedical engineering from Northwestern University.
As an engineer, he conducted research and developed algorithms using an interface that recorded signals from the muscles and surface of the skin of participants with tetraplegia. His work led to the creation of a pattern-recognition control system for arm prostheses. He applied for a patent in 2017, which is still pending.
Realizing that research involving signals from the skin had limitations, Brantly decided to delve deeper into a similar area of scientific study. In 2018 he became a research specialist in the Bensmaia Lab at The University of Chicago, where he studied the effects of BCI in monkeys. Fascinated by this area of research, Brantly then decided to pursue a doctoral degree in biomedical engineering. In 2019 he was accepted into the graduate program of University of Pittsburgh's Department of Bioengineering and is now conducting BCI research in humans.
During his first year of graduate study, Brantly's analyses were recognized by ARCS Foundation. He was chosen as an ARCS Scholar in 2019 and again in 2020.
While ARCS has helped him make a difference in his patients' lives, Brantly says ARCS members have made a difference in his life as well. "One of my donors sent me an encouraging message saying she valued my research. I appreciate this community of people who really care about young scientists."
It's this same kind of caring support Brantly hopes to provide to people with tetraplegia through BCI-encoded projects.
"It's enriching to interact with someone who has tetraplegia and learn how technology could improve their quality of life," he says. "My goal is to see someone have restored function, whether with a computer or from a robotic arm attached to their wheelchair. It would be especially rewarding to have this technology available to all individuals with tetraplegia."