Incoming ARCS National President Caron Ogg learned her work ethic and attention to detail from her father, a physician who worked every day of the year except for Christmas.  Her mother's work schedule was the same. Her parents and all her grandparents earned college degrees, unusual in those decades. One grandmother earned her degree in chemistry as a Phi Beta Kappa. One grandfather was a chemistry professor. Caron brings these family values and many years of non-profit leadership to her ARCS National role.
"I've been an activist for a long time," Caron says, and admits she can't be idle and does not require a lot of sleep. Her husband Larry describes Caron as competitive, striving to win at tennis or at coaching a T-ball team.  Working for non-profit organizations, Larry says that she "looks at what's best for the group" and knows how to open doors to get advice and meet the right people to help achieve the organization's goals.  
One of Caron's proudest achievements was founding the Shoreline Public Schools District Foundation in the Seattle area and serving as the foundation's president from 1991 to 1996.
Caron joined ARCS Oregon Chapter in 2005, one year after the chapter's founding, and served as chapter president in 2010-12. She has been pivotal in the chapter's growth with her leadership of the Long Range Plan, the website, communications, and fundraising, as well as her ability to meticulously track each area of chapter development.
Her proudest achievement for ARCS Oregon Chapter was launching University Matched Endowments (UME) with donors and the chapter's three university partners. Each of these scholar awards in perpetuity is created when a donor gives $100,000, a university gives $50,000 and the chapter adds funds to cover initial fees. Caron and Larry created the first such UME endowment, and the chapter now has 25 of these matched endowments with the same funding model.
Caron and Larry, a retired bank executive, have two children and five grandchildren in the Portland area.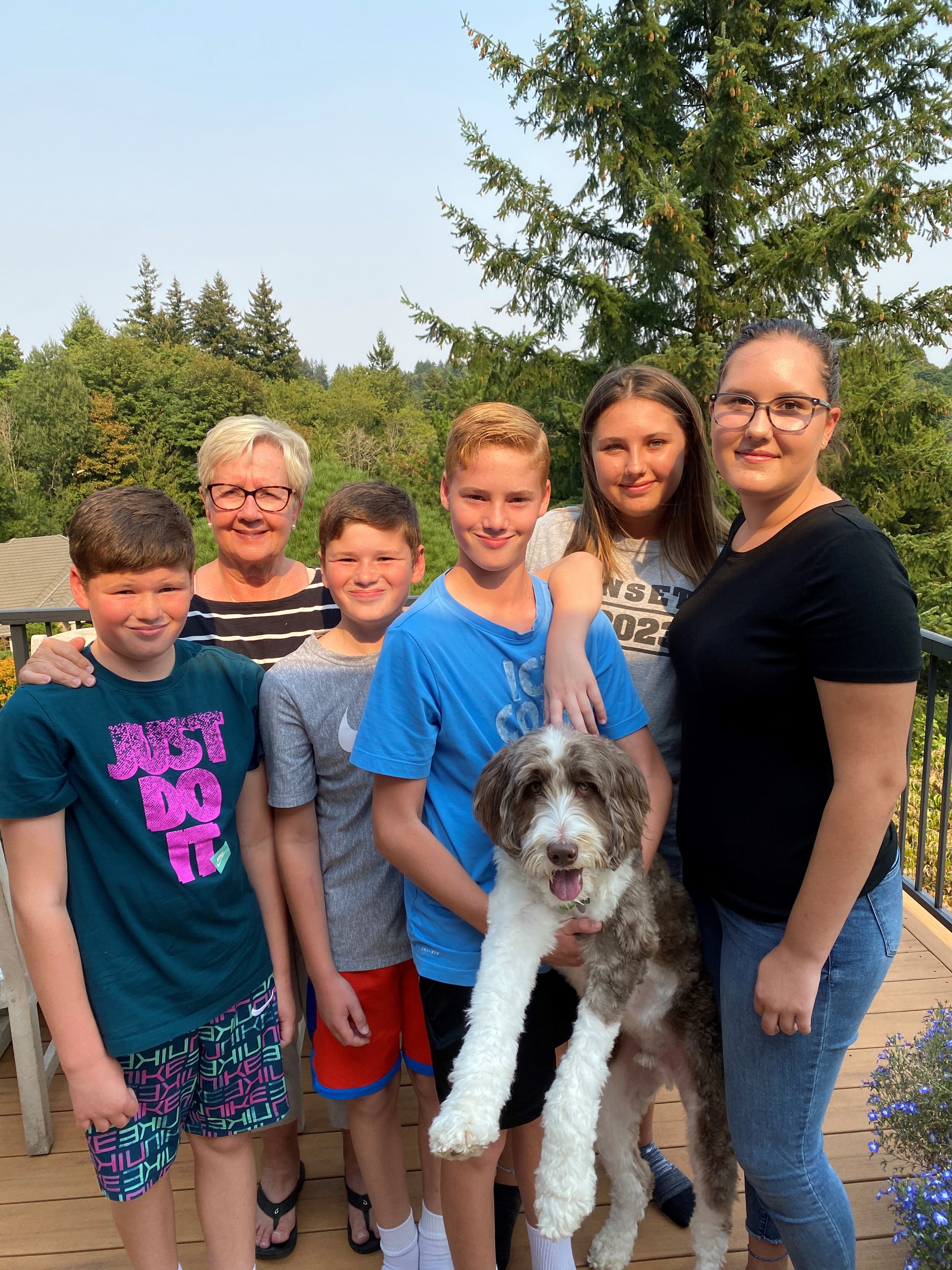 New ARCS National President Caron Ogg loves spending time
with her five grandchildren who affectionately call her "Mimi."
From left-right: Identical twins Carson and Zach Ogg, Nick Ogg,
Kate Cunningham, Alexa Cunningham, and family pup Mocha.
(Courtesy: Caron Ogg)
Caron's daughter, Lara Cunningham, is on ARCS Oregon Chapter board as Co-Vice President of Communications, and Lara's daughter Alexa is also a member of ARCS Oregon Chapter.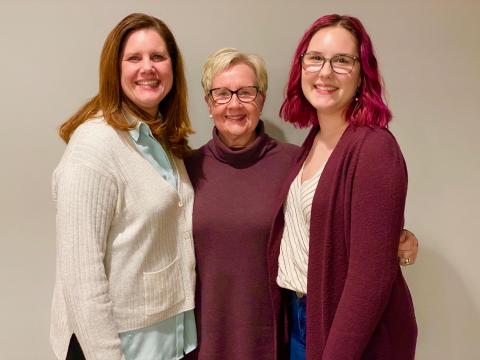 Being members of ARCS Oregon Chapter is a family affair
for Caron Ogg.
From left-right: Daughter Lara Cunningham, Caron Ogg,
and Granddaughter Alexa Cunningham. 
(Courtesy: ARCS Oregon Chapter)
Caron earned her B.A. from Washington State University (WSU) in Interior Design and is a member of the WSU Foundation Board of Trustees. She also serves as a trustee for the Oregon State University Foundation and the Multiple Sclerosis (MS) Society of Oregon and Southwest Washington.