The names Ann Russell Miller and Sister Mary Joseph won't soon be forgotten among members of ARCS Foundation – nor amid the nuns in the non-speaking Order of Discalced Carmelites with the Carmelite Monastery of St. Joseph in Des Plaines, Illinois.
Two very different groups were brought together by one extraordinary woman who heeded God's calling in life—and in death—leaving a legacy for ARCS members, future scientists, and Carmelite nuns.
Ann Russell Miller, now known as Sister Mary Joseph of the Trinity, passed away at the Carmelite Monastery on June 5, 2021, following a series of strokes. She was 92 years old.
Her daughter and ARCS Northern California Chapter member Donna Miller Casey saw her mom shortly before her death. "I held her hand and said, 'It's okay, mom, time for you to go. You don't need to hang around. Time to go see your parents, dad, and Douglas.' He was my brother who died years ago. Mom still hung on but passed away about a week later."
Her death brought tears and sadness, but it also unlocked a treasure trove of fond memories, smiles, and laughter amongst her family, friends, acquaintances, and fellow nuns.
Ann Russell Miller
Prior to entering the order at age 61, Ann Russell Miller was a married mother of ten children living just outside of San Francisco, California.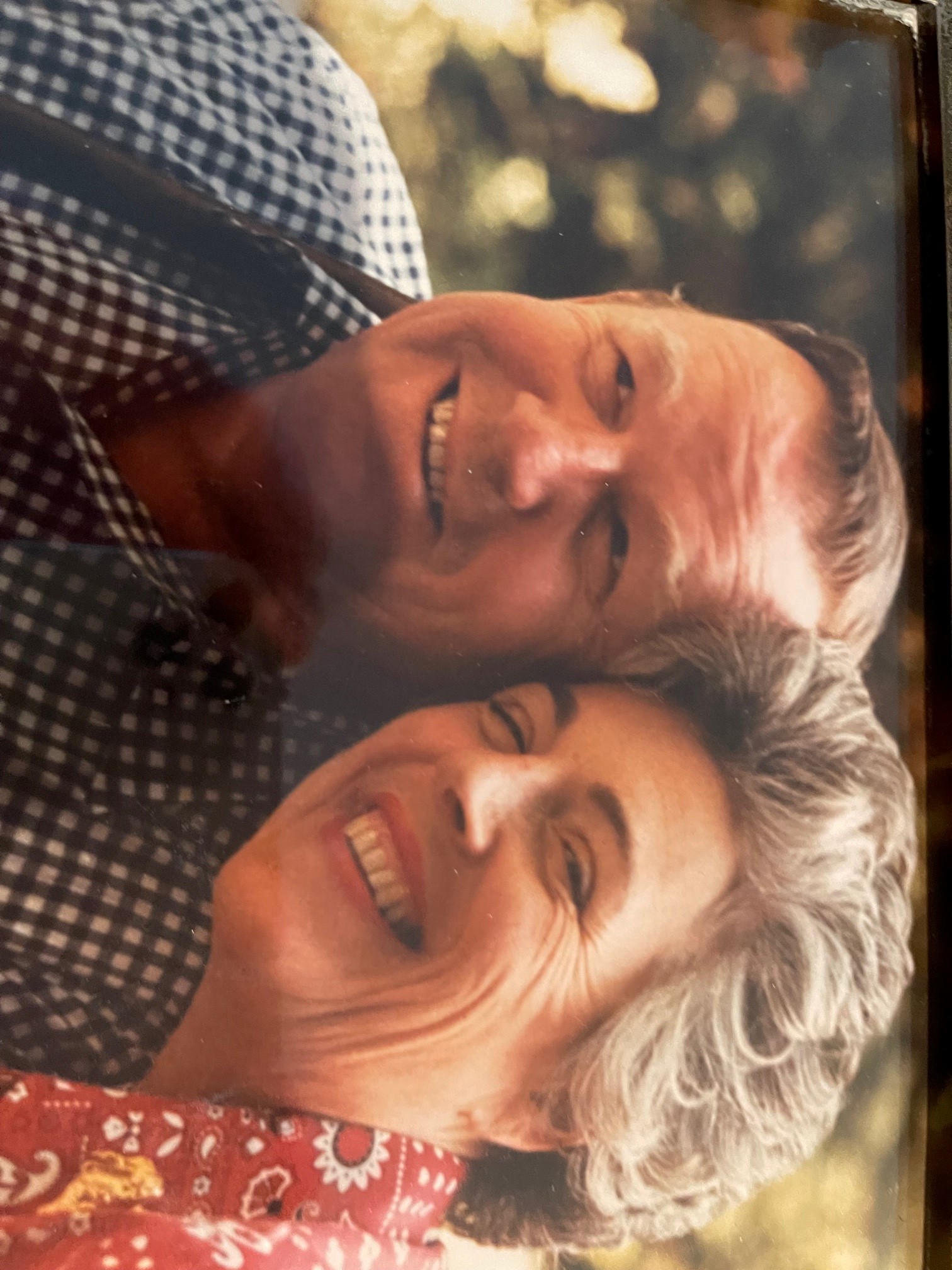 Ann Russell Miller smiles next to her husband Richard "Dick" Miller.
The couple was married for 36 years and had ten children.
A few years after Dick died, Ann became a nun and joined
the Order of Discalaced Carmelites. From that point on she
was known as Sister Mary Joseph of the Trinity. 
(Photo Courtesy: Donna Miller Casey)
She was a founding member of ARCS Northern California Chapter in 1970, which soon became a family affair. Five of Ann's children, Donna, Jane Abbott, Leslie Schemel, Elena Caruso, and Marian Miller, plus her mother; Louise Russell, were all charter members of the chapter. Ann became the first president of ARCS Northern California Chapter from 1970-1974, and later was elected as the first ARCS National President from the Northern California Chapter.
Donna said her mother played a big role in getting the Northern California chapter off the ground. Ann's main goal was to make an impact on science education, promote science around the Bay Area, and raise funds for the chapter and ARCS National.
But she liked to have fun too.
"My mother had a rhinestone whistle she'd use to end meetings and a huge purse with a clock painted on it that she'd point to when people started running long on presentations and such," Donna remembered. "She was quirky and kept people on their toes. But she also was very organized and had a vision for promoting science within the Bay Area."
Ann's vision included a science exhibit for children that featured the NASA Mercury capsule and moon rock, field trips to NASA's Ames Research Center and Edwards Air Force Base, plus a dinner to celebrate Nobel Laureates from the Bay Area.
Despite her passion for ARCS, Ann decided to become a nun. According to Donna, it was a calling her mother felt deep in her heart at a young age, before she was married, and again after visiting the Carmelite Monastery of St Joseph in 1980. When Ann's husband passed away in 1984, Donna knew it was only a matter of time before her mom left to join the order.    
For Ann's 61st birthday party, friends threw a huge bash with dinner and dancing. According to Donna, 800 guests showed up to the party held in the grand ballroom of the Hilton Hotel. They celebrated with Ann until late in the evening on October 30, 1989.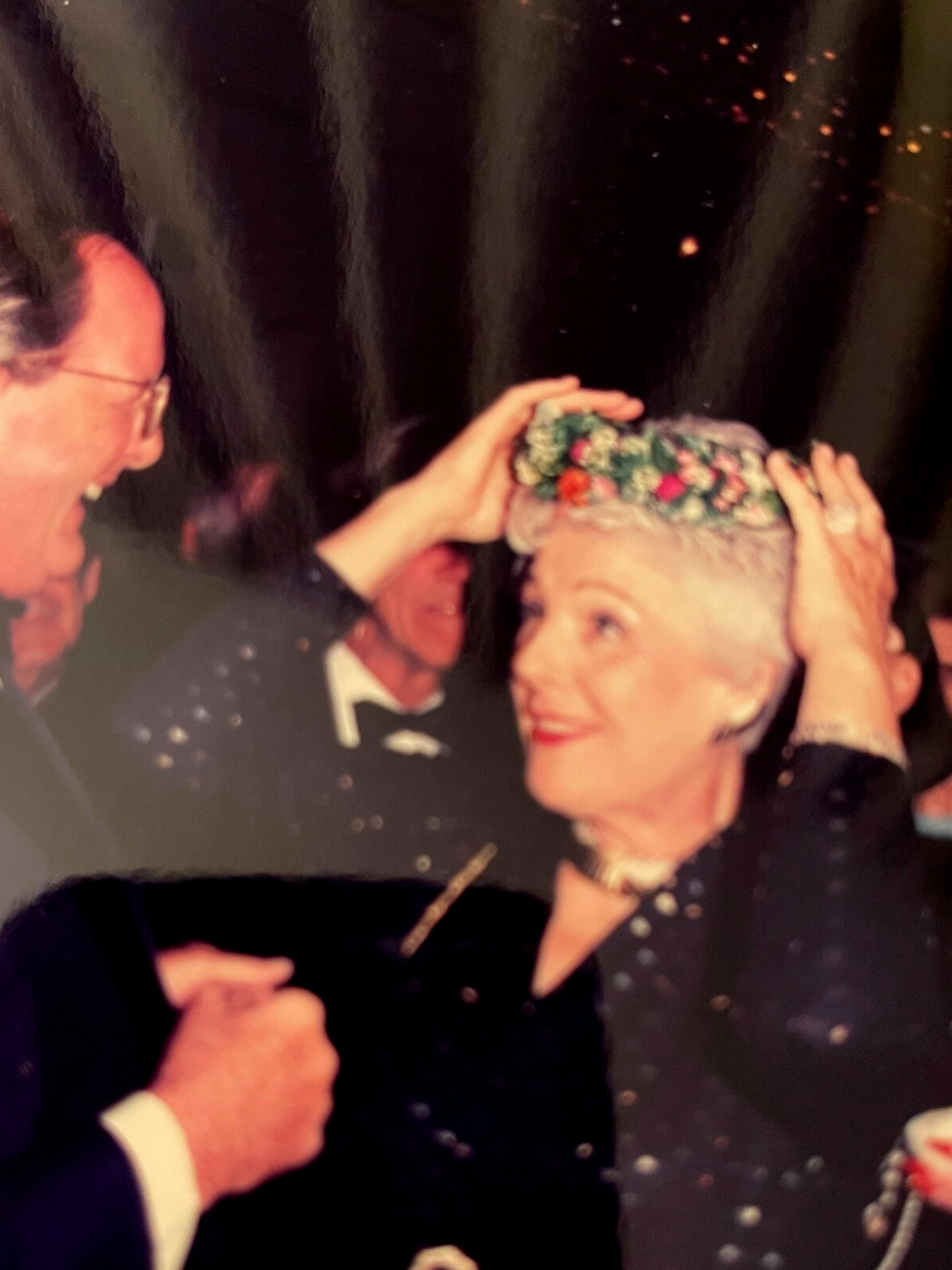 Ann Russell Miller places a flower crown on her head
during her 61st birthday party on October 30, 1989.
The next morning she boarded a plane for Chicago
and joined the Carmelite Monastery.
Six months later she took her vows and offically
became Sister Mary Joseph of the Trinity.
(Photo Courtesy: Donna Miller Casey)
The next morning, Donna's mom boarded a plane for Chicago and joined the Carmelite Monastery, where, after six months, Ann Russell Miller took her vows, received her habit, and officially became Sister Mary Joseph of the Trinity. The order was mainly non-verbal with limited contact to the outside world—including family.  
Sister Mary Joseph of the Trinity
Donna admitted she struggled with her mom's decision.
"At first I thought it was selfish of her to join the monastery," she stated. "I became the caregiver for my ninety-year-old grandmother and was in charge of keeping my siblings on the right path. But then I realized my mom made the true sacrifice. While I went to graduations, planned my sister's wedding, and participated in life events—she had to stay in the monastery. She wasn't allowed to attend. It's so sad … she missed out on so many special family occasions."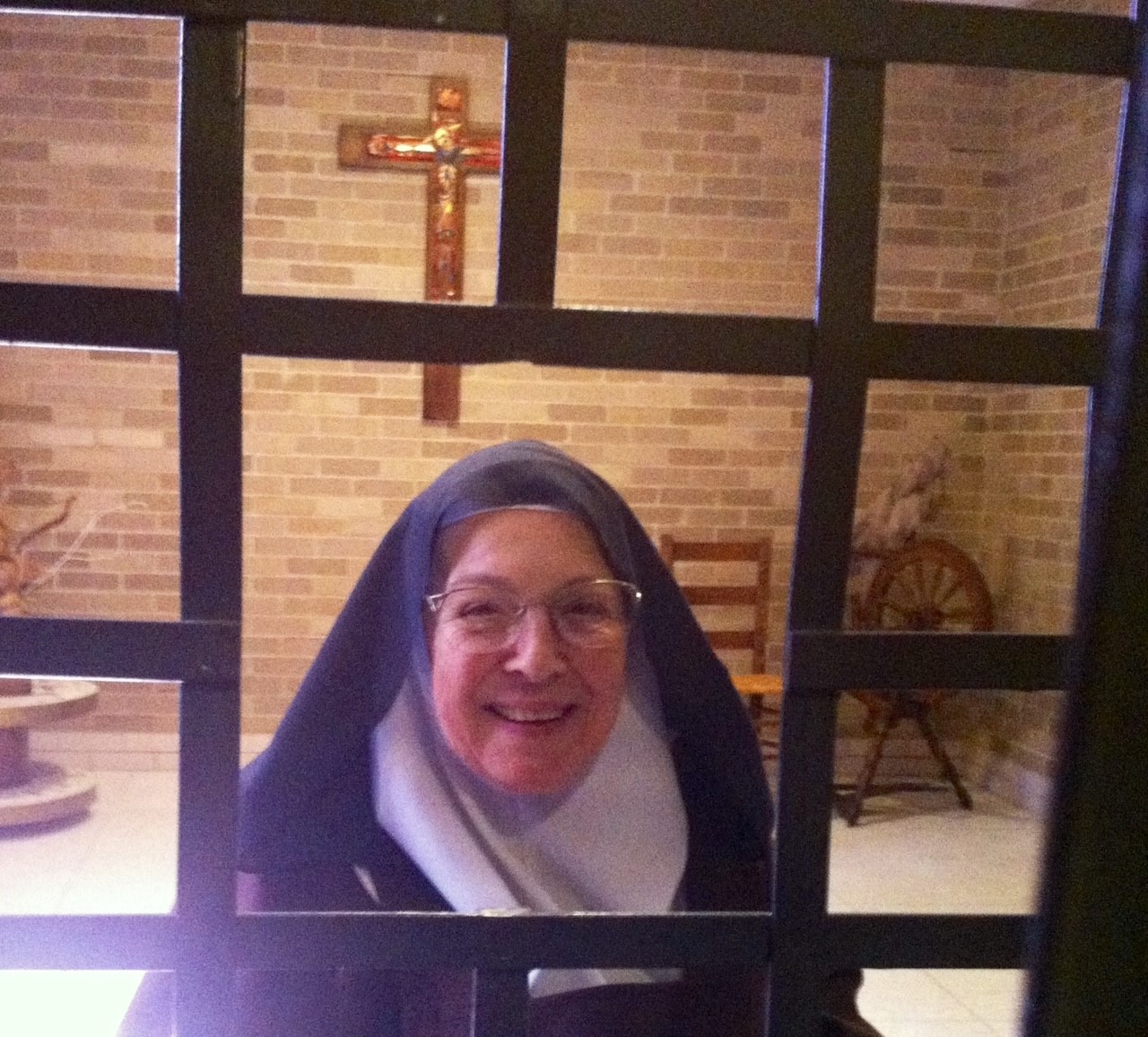 Donna Miller Casey snaps a photo of her mom, Sister Mary Joseph,
during a rare visit to the Carmelite Monastery, a mostly nonverbal order.
(Photo Courtesy: Donna Miller Casey)  
Morning mass, prayer time in the chapel, reading psalms, doing chores, making rosary beads, and working in the garden became Sister Mary Joseph's daily routine, Donna said. The nuns were occasionally allowed visitors and phone calls and produced plays during religious feast days.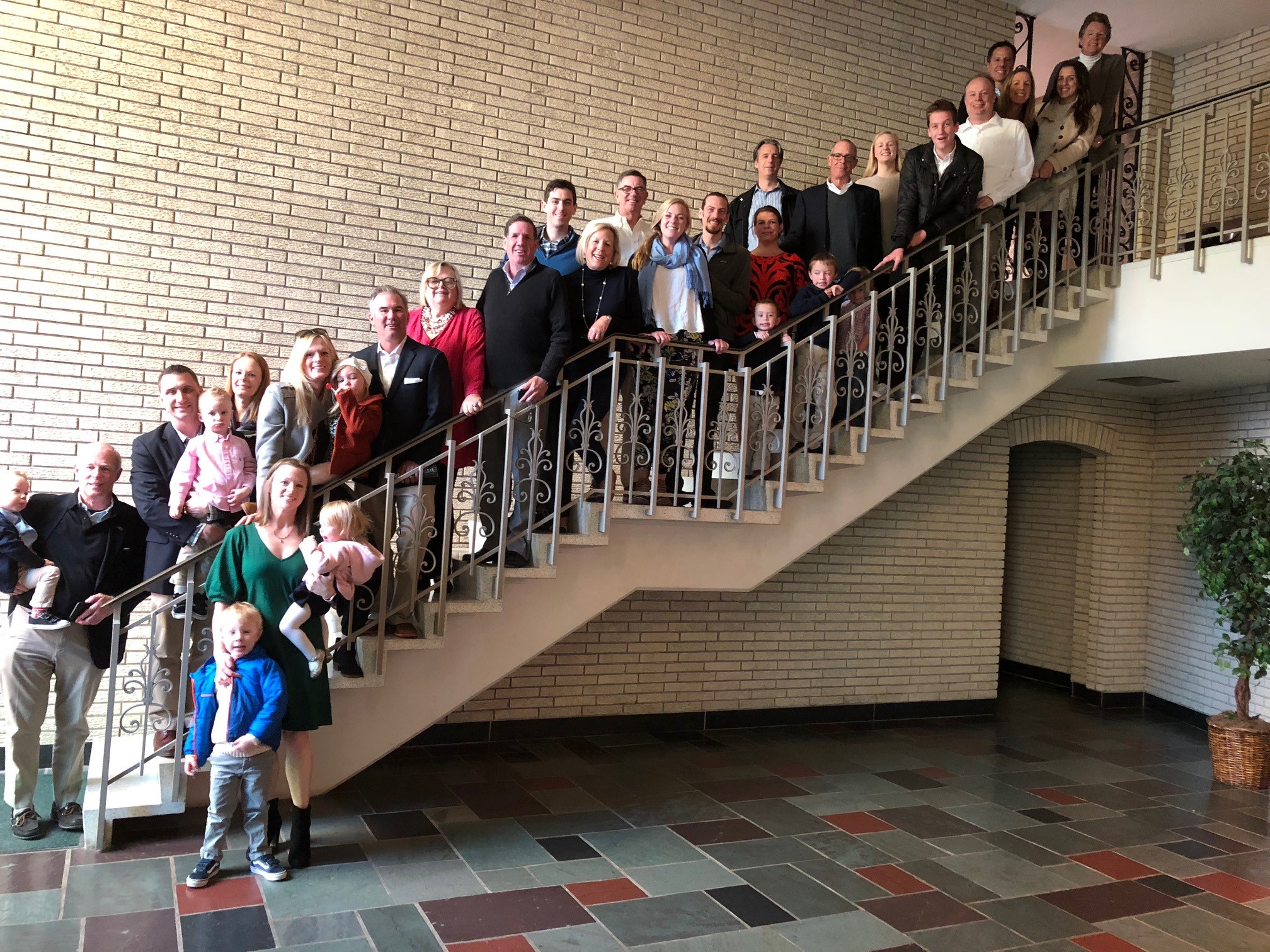 For Sister Mary Joseph's 90th birthday, fifty-seven family members flew
to Chicago to "celebrate" the special occasion at the Carmelite Monastery
of St. Joseph. In attendance: nine of Sister Mary Joseph's ten children,
28 grandchildren, and 18 great-grandchildren, plus spouses.
(Photo Courtesy: Donna Miller Casey)  
 
Even as a nun, Sister Mary Joseph still had a spirit for fundraising. According to Donna, she "sparked a movement" and raised money to add gates around the monastery property. Sister Mary Joseph was able to convince people to donate items to help the nuns tend to their garden.
"She wasn't supposed to ask for anything and actually got in trouble for wanting a wheelbarrow to help nuns working in the garden. So, she got smart about asking for things. She would tell me about trying to work in the garden, but the size nine boots were gone. It was a declarative sentence— and I picked up on what she was doing pretty quickly," Donna laughed.
The monastery was regularly gifted with new items for the garden, such as a wheelbarrow, tools, colorful rainboots, sun hats, and more.
A Legacy of Scientific Learning
Sister Mary Joseph of the Trinity / Ann Russell Miller lived two completely different, yet extraordinary lives—and left a tremendous legacy when she passed away.   
According to Donna, her mom's devotion to ARCS will be carried on by her twenty-eight grandchildren, and sixteen great-grandchildren, some of whom are entering college and plan to major in STEM-related fields.
The family also plans to honor their mom with a second ARCS scholar award in her name.
"My mom was truly devoted to ARCS," Donna stated. "She loved being a part of the organization and loved that her daughters were members too. I think she'd be proud for her grandchildren to join as well —and be involved in future scientific education and innovations."
Contributions in memory of Ann Russell Miller / Sister Mary Joseph of the Trinity may be made to:
ARCS Foundation, Inc. Northern California Chapter
PO Box 29405
San Francisco, CA 94129