Ryan O'Hara, a Metro Washington Chapter ARCS Scholar, originally dreamt of becoming a medical doctor. Instead, he's using a PhD in Biomedical Engineering to build models of the heart.
Ryan explains he studied Biomedical Engineering in preparation for medical school and its intensive curriculum, but his time as a research assistant in a clinical lab at University at Buffalo led him to stay in the field. At the Canon Stroke and Vascular Research Center, he used a 3D printer to help plan and test patient-specific procedures on the brain, which led him to his work on the heart today at Johns Hopkins University.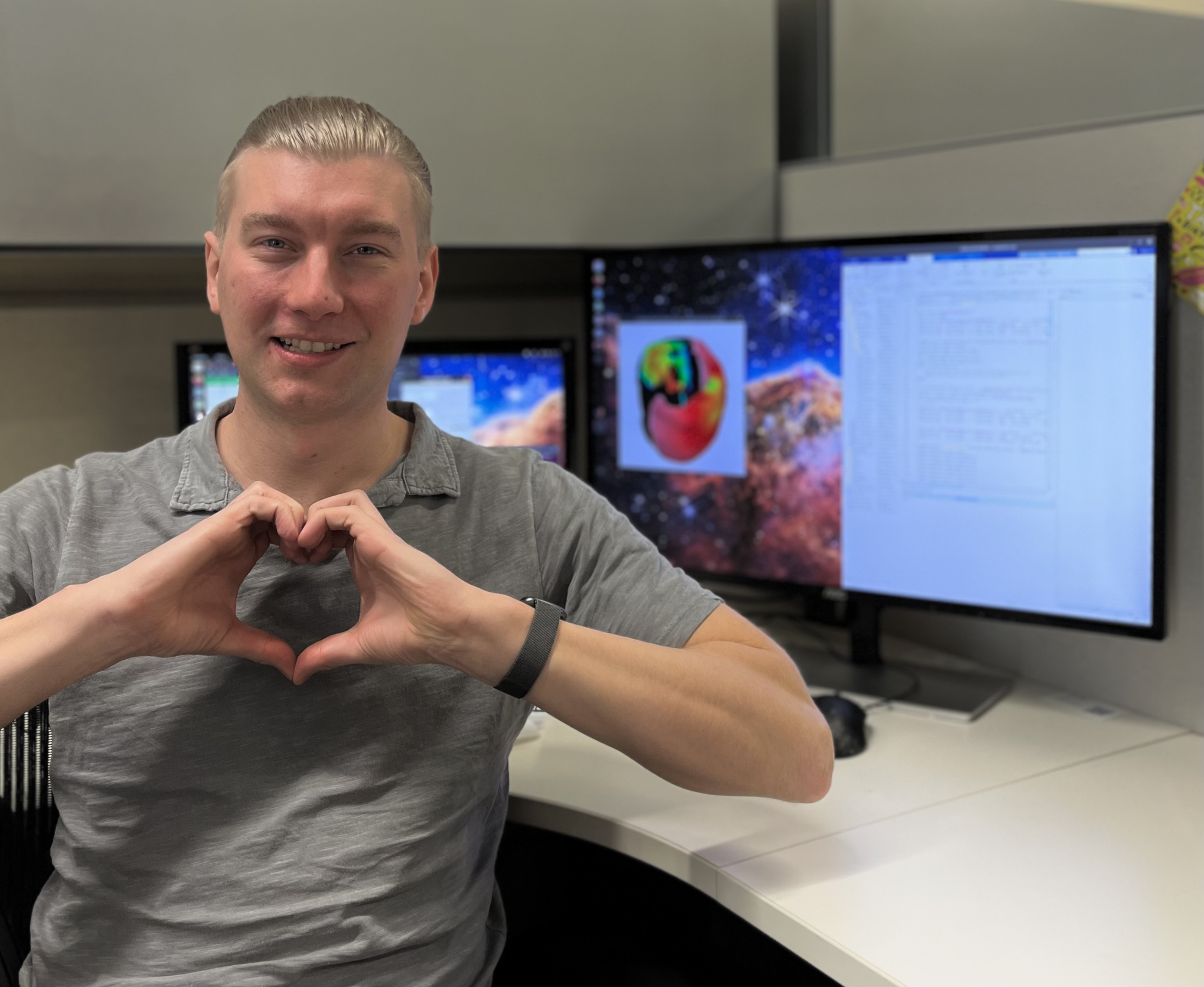 His current lab, Computational Cardiology Lab at Johns Hopkins University, develops personalized 3D models of a patients' hearts based on their MRI images. With the 3D heart model, they can run tests and simulations.
"The simulations can predict whether a patient is at risk for an arrhythmia," Ryan explains. "For arrhythmia patients, we can use these models to personalize treatments, whether it's a need for an implantable cardioverter-defibrillator (ICD) or catheter ablation therapy. My work specifically focuses on ventricular cardiomyopathies, ranging from predicting sudden cardiac death and hypertrophic cardiomyopathy to planning personalized catheter ablation therapies, following myocardial infarction."
Ryan explained producing a useful model is challenging but also rewarding. Especially since cardiovascular disease is the leading cause of death worldwide and in the US.
"One of my grandmothers passed away due to heart failure, and then shortly after, I had a family member who was born with a congenital heart defect," explains Ryan. "So I know the work I do every day may have an impact on people's lives in the future."
When asked if he had advice for future engineers, Ryan stressed the importance of failing and using failures as learning experiences.
"Don't be afraid to fail," he says. "As a Ph.D. student, I've failed a lot. You're not going to succeed right away and do everything perfectly. And it's great to fail and learn because each failure is a learning experience. It moves you forward."
Ryan credits his ARCS Scholar Award as the reason he has a strong network, academically and professionally. All his research projects were developed with external collaboration overseas.
"This award has allowed me to finally meet these collaborators in person at an international conference, which was a really great experience," says Ryan.
He also gives thanks to ARCS for expanding the scope of his projects and allowing him to meet other researchers. "In the short time I've been a scholar, I've already met a lot of incredible researchers that are outside my field that I otherwise would not have crossed paths with," he concluded.