"Viruses are absolutely everywhere," says ARCS Scholar Alum and Associate Professor Dr. Mya Breitbart. "They are throughout every environment you can think of."
Dr. Breitbart is an associate professor at the University of South Florida's College of Marine Science and head of the Breitbart Lab. She uses molecular techniques to examine the diversity, distribution, and ecological roles of viruses and bacteria in various environments, such as seawater, animals (including insects and zooplankton), plants, coral reefs, stromatolites, and reclaimed water.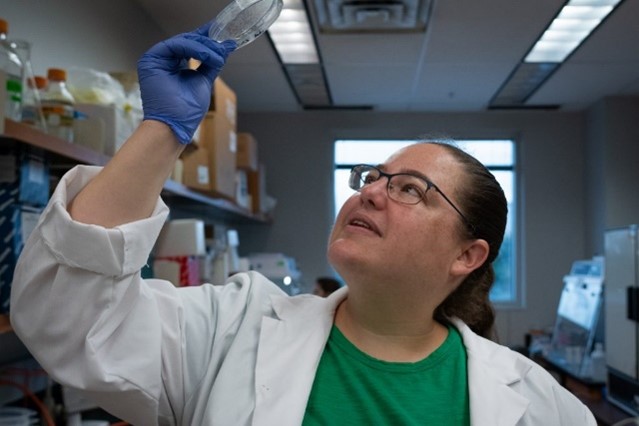 Dr. Mya Breitbart
She was the first to discover viruses infecting zooplankton and the first to identify single-stranded DNA viruses in invertebrates. She also conducted the first multi-year study of viral abundance in the open ocean, which then led to the discovery that plant viruses dominate human feces (enabling the development of new indicators of fecal pollution).
The environmental impact of viruses has been a hot topic over the past several years, primarily due to COVID-19. Dr. Breitbart notes that because of the pandemic, people have become more aware of viruses in their daily lives. "My lab focuses on understanding viruses and their impact on the environment in general and how they evolve," says Dr. Breitbart.
"There's nearly 10 million viruses in every milliliter of seawater," she said. "...and the vast majority of them would not affect people or fish," but, Dr. Breitbart says, studying these natural viruses could allow for a better understanding of how they evolve over time.
Across more than a decade of research, Dr. Breitbart's efforts played an integral part in developing the scientific field viral metagenomics. This technique helps sequence virus communities and then capture a full spectrum of the viruses in a sample that could affect an environment. Today it i is applied to viral samples of all kinds, including animal or plant tissue, seawater, or sewage, and helps researchers discover the types of viruses in these samples.
Dr. Breitbart was using this process to research public health trends as an ARCS Scholar in 2006 while working on her PhD in Cellular and Molecular Biology at San Diego State University, Scripps Research Institute. "Instead of having to go and sample every person, we would research wastewater," she said.  Her research helped establish seasonal baseline levels in wastewater for viruses like the flu.
Her research results are used today to track COVID-19. "Today, scientists are using this same process of monitoring wastewater for the presence of COVID-19 and can tell if public levels are at a high or low." 
According to Dr. Breitbart, while many viruses discovered in samples will not affect animals or people, they play essential roles in their environments. "There are so many bacteria that play an important role in processes like carbon fixation," she said. Carbon fixation is when atmospheric carbon dioxide is converted into organic carbon compounds. "Just like we have trees that perform photosynthesis on land, [carbon fixation] is activated by small algae or bacteria in the oceans."
From ocean water to agriculture, Dr. Breitbart's research on viruses explores many areas of the environment. "We are not just looking at the viruses that cause obvious problems, but we are really trying to understand the diversity of what is out there to gain a bigger perspective on it," she said.
The Breitbart Lab receives funding from an NSF Assembling the Tree of Life grant. Her lab's research focuses on exploring the diversity and ecology of single-stranded DNA viruses, whose widespread environmental distribution has only recently been recognized.
Dr. Breitbart says she wants to help the scientific community get ahead of problem viruses before they harm an environment or a species. She said that both scientific and sociological communities are critical to educate and prepare the public for a virus's effect. "As scientists, we cannot go it alone as biologists or chemists. We also need people who are thinking about the sociological aspect," she said.  
Dr. Breitbart expressed her appreciation for ARCS Foundation's notable community, and said it fueled her passion for supporting PhD students. "A big part of my job is the teaching and the mentoring of students and helping them become the best scientists that they can be," she said. 
Upon receiving her award in 2006, she used the grant to travel to Australia to present her research and see the Great Barrier Reef, which she described as "a life-changing moment." "ARCS Foundation is such a great organization. I always want to help pay it forward, because it was so instrumental to me," she said.