"How do you cope knowing what's going on in the environment?" ARCS Scholar Alumna Chelsea Rochman has been asked this question many times during her decade-long career researching plastic pollution. The fact is, she knew from an early age that she wanted to pursue a career in ecology, having witnessed firsthand the widespread impact humans were having on our planet. 
Between 2011 and 2013, while pursuing a PhD in a joint ecology program at University of California, Davis, and San Diego State University, Rochman immersed herself in the study of plastic pollution and the effects on aquatic habitats. She became interested in the "cocktail of contaminants" associated with synthetic material in the aquatic environment and the way this mixture of contaminants (plastic and chemical pollutants) acts as a multiple stressor to aquatic life. Not surprising, this interest became the focus of her dissertation.
As a newly minted PhD, Rochman continued her research into plastic pollution. She was passionate about understanding where plastic debris comes from, where it goes in the environment, how it impacts the ecosystem, and most important, how science can inform positive change on environmental issues.
In 2016 she became an assistant professor in the Department of Ecology and Evolutionary Biology at University of Toronto, where she leads a large, productive research lab that focuses on quantifying and characterizing microplastic samples. Many of their studies have tested the effects of microplastics on marine and freshwater organisms. These studies have indicated a variety of biological effects, such as changes in gene expression, inflammation, disruption of feeding behavior, decreases in growth, decreases in reproductive success, changes in larval development, reduced filtration and respiration rates, and decreased survival. However, studies done in other labs do not detect these effects, concluding that microplastics are not harmful. These contradictory results reflect the complexity and multidimensionality of microplastics as a pollutant, Rochman says. She hopes that her research will help develop a clear consensus around the effects of microplastics and result in policies to mitigate plastic pollution before irreparable harm occurs.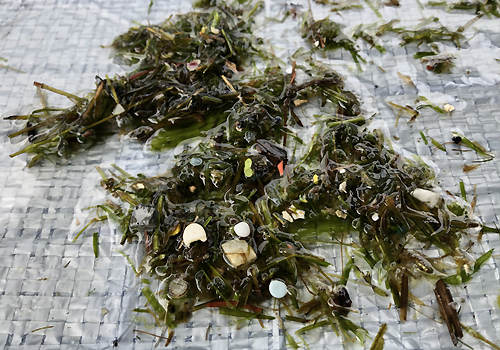 Microplastic particles in aquatic plant life collected in Seabins in the Outer Harbour Marina on Toronto's waterfront. Photo courtesy of Chelsea Rochman
Rochman has taken her ecological interests beyond the lab as well. For example, in 2017 she cofounded the U of T Trash Team, a science-based community outreach group dedicated to increasing waste literacy, engaging the public, and implementing effective solutions. Each project is treated as a case study in which best practices can be replicated in relevant regions to mitigate waste both locally and globally.
Now an internationally recognized leader in microplastic pollution research, Rochman has presented her work to the United Nations General Assembly, US State Department, and Canadian Council of Ministers of the Environment. She is also a scientific adviser to the Ocean Conservancy, a nonprofit environmental advocacy group in Washington, DC, which helps formulate ocean policy at the federal and state levels. Her work or expertise has frequently been featured in news media, such as The New York Times, The Washington Post, BBC, and NPR.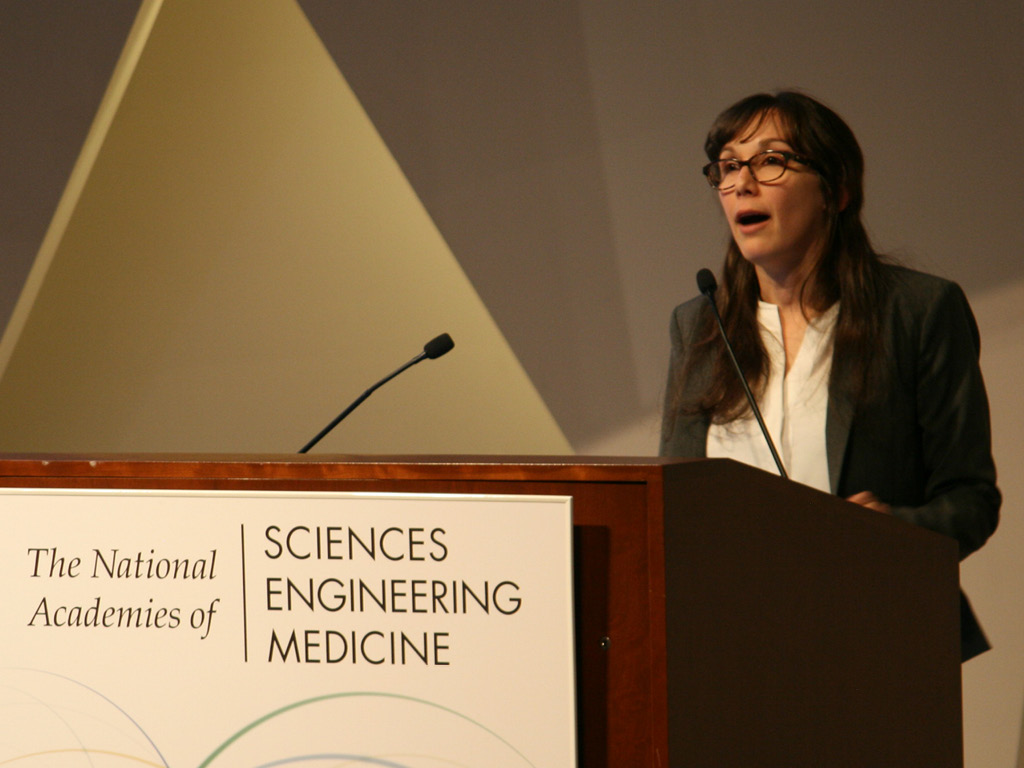 Chelsea Rochman delivering the 21st Roger Revelle Commemorative Lecture on the science of plastic pollution, how plastic pollution has become a major issue on the policy stage, and what is being done to address the problem around the world. Photo credit: National Academy of Sciences
In March 2020, Rochman received one of the highest honors in her field when she was tapped to deliver the Roger Revelle Commemorative Lecture for Oceanography. This annual lecture series is sponsored by the Ocean Studies Board of The National Academies of Sciences, Engineering, and Medicine in honor of Roger Revelle, a world-renowned oceanographer, to highlight the important links between ocean sciences and public policy. In "The Story of Plastic Pollution: From the Distant Ocean Gyres to the Global Policy Stage," Rochman provides a history of the field, the state of the science, and the path forward for mitigating plastic pollution. She concludes her talk with these forward-looking remarks:
The first decade of my scientific career has been rewarding—I have had the opportunity to grow with a burgeoning field of research. In parallel, I have witnessed our science being used to inform the policymakers planning for positive change. The second decade of my career will be filled with deeper scientific questioning to better understand this diverse contaminant. Still, we have learned a lot, and my hope for this next decade is that we also use the knowledge from the decade past to realize global goals for reduced emissions of plastics into the ocean to protect it for people, wildlife, and the planet.
Chelsey Rochman continues as a pioneer and global leader in plastic pollution. In March 2021, she received the 2021 President's Impact Award given by the University of Toronto to faculty members whose research has had significant impact beyond academia.