Plant conservation champion Becky Barak tells her story.
Plants have been part of my story for as long as I've been a researcher, and I've spent the past 12 years (at least!) trying to uncover theirs. I was an ARCS Scholar as a master's student in Northwestern University's department of Plant Biology and Conservation, a joint program of Northwestern and Chicago Botanic Garden. At that time, I studied the native plants that grew in habitats dominated by invasive cheatgrass in Zion National Park. I was looking for species that could potentially be of use for restoring degraded habitats in the western United States.
Since then, I've continued to study native plants and restoration, but closer to home in the tallgrass prairie region. I did my doctoral work in the same program as my master's, focusing on prairie restoration and biodiversity. After receiving my PhD, I continued my applied conservation research as a postdoctoral Smith Fellow. During my fellowship, I focused on studying seed mix design for prairie restoration from an ecological and social perspective—how land managers make decisions for restoration. I studied germination, emergence, and establishment of planted species in experimental prairie plots at The Morton Arboretum in Lisle, Illinois, and surveyed prairie restoration managers across the Midwest to better understand their seed mix design process.
I'm now a conservation scientist at Chicago Botanic Garden and currently serve as the curator of the Dixon National Tallgrass Prairie Seed Bank, where we store seeds of prairie species in freezing conditions for future use in restoration, conservation, and research.
I've also come full circle as an adjunct professor at Northwestern, advising my first cohort of graduate students in the program where I received my MS and PhD. Through my work with students, I'm expanding my research scope into new species (orchids!) and new habitats (savannas and forests!). In addition, I'm working on a new research project with collaborators at Chicago Park District and University of Michigan–Flint, studying the use of short-statured native plants as lawn alternatives. My collaborators and I wonder if these native plantings can provide infrastructure and environmental benefits over traditional grass lawns.
All along this journey, it's been my pleasure to work in science communication, education, and engagement. In my master's student days, I collaborated with Budburst, a community science project on the timing of flowering and other plant life-cycle events. Since then, I've engaged with students through internships in the lab and field, and by visiting many classrooms in person and virtually, as well as through science engagement events at Chicago Botanic Garden.
My biggest engagement project these days has been Plant Love Stories, which I founded with a group of collaborators. We collect and share stories of the important plants in people's lives—more than 130 stories to date. Our goal is to highlight that plants are part of our personal stories and part of our world. We share stories on our website, as well as through live storytelling events, and every Valentine's Day (the day Plant Love Stories germinated), we celebrate our anniversary with custom plant-themed valentines. I love that whenever I talk to people about the project, someone inevitably starts sharing their plant love story. Some people need to think back a bit, but for others, it's right on the tip of their tongue. Plant conservation and restoration are vital to our world, and the first step might be recognizing a plant love story.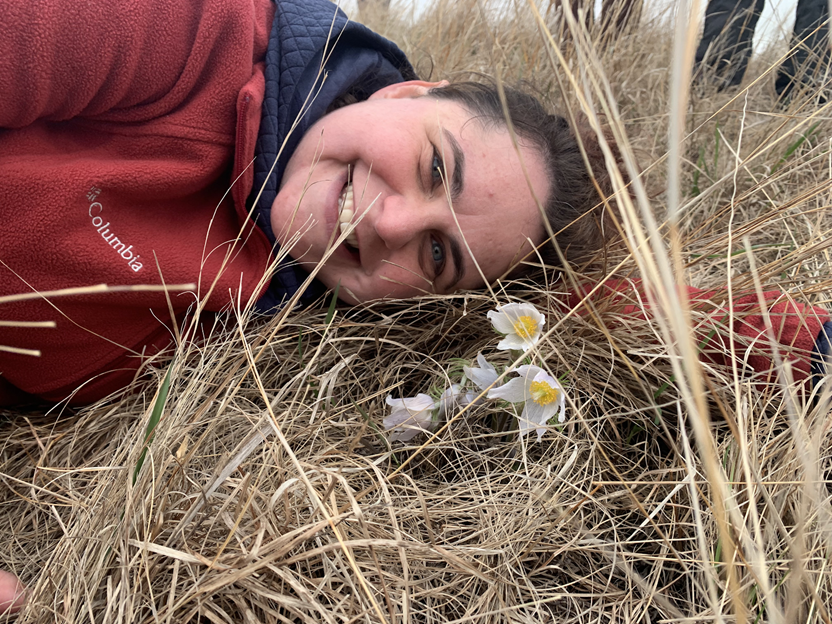 "Sharing plant love stories, including the ones that are scientist origin stories, allows our humanity to shine through, bursting the misconception that scientists cannot have emotions," says Becky Barak. Photo courtesy of Becky Barak