A modern-day Nancy Drew, ARCS Scholar and fifth-year graduate student at the University of California, Irvine (UCI), Amanda McQuade is combining her love for crime novels and passion for neuroscience to solve the mystery of immune regulation and genetics in patients with Alzheimer's Disease.  
McQuade is specifically studying TREM2, a protein that has previously been associated with Alzheimer's Disease. According to McQuade, the TREM2 protein is expressed on immune cells in the brain and helps activate these immune cells, triggering a response to bodily injury or disease.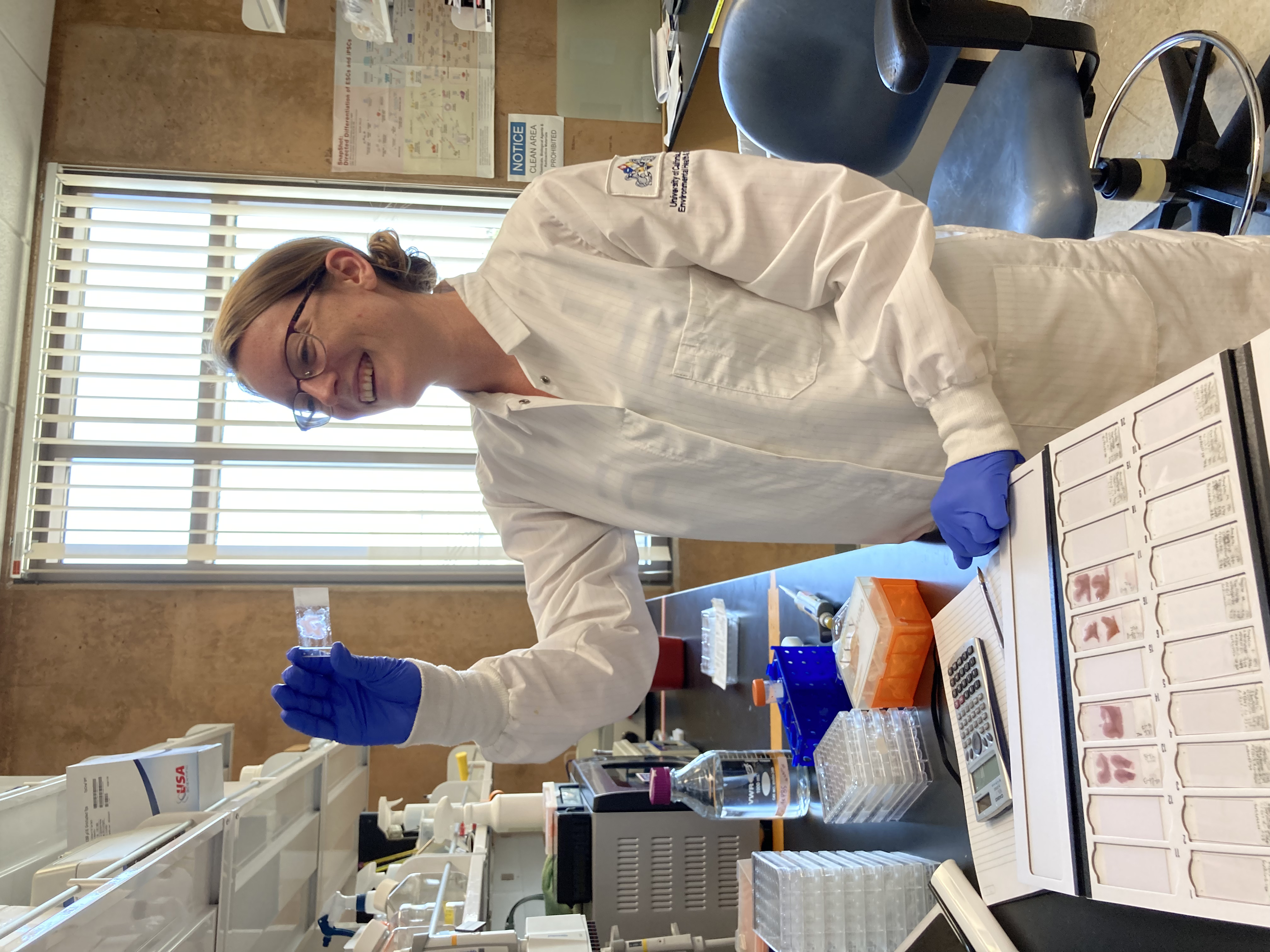 ARCS Scholar Amanda McQuade looks at a slide that contains H&E stained human brain tissue. The stain allows McQuade to see cells within the tissue sample more clearly. Photo courtesy of Sepideh Kiani Shabestari, UCI Grad Student
According to studies conducted almost a decade ago, mutations in the DNA that alter TREM2 can greatly increase a patient's risk of developing Alzheimer's Disease. McQuade is researching why this happens – and how to correct it. "There's a lot of evidence showing the immune system is able to alter the progression of Alzheimer's Disease. So, what I'm doing is studying these immune-specific genetic risk factors associated with the disease. Then, we'll be able to understand if immune cells are helping or hurting patients with Alzheimer's Disease," she explained.
McQuade edits the genomes of donated skin cells from Alzheimer's patients until they become TREM2-expressing brain immune cells. This process creates two variables: a healthy TREM2 cell and a mutated TREM2 cell. McQuade observes how the proteins react when challenged with diseased material. "The cells lacking the TREM2 protein didn't react strongly to the disease, whereas the healthy control sample was able to activate the immune system, which then began attacking some of the damaged areas of the brain, as if to remove them," she said.
There are an estimated 44 million people living with Alzheimer's Disease in 2021 – and their loved ones, according to Alzheimer's News Today.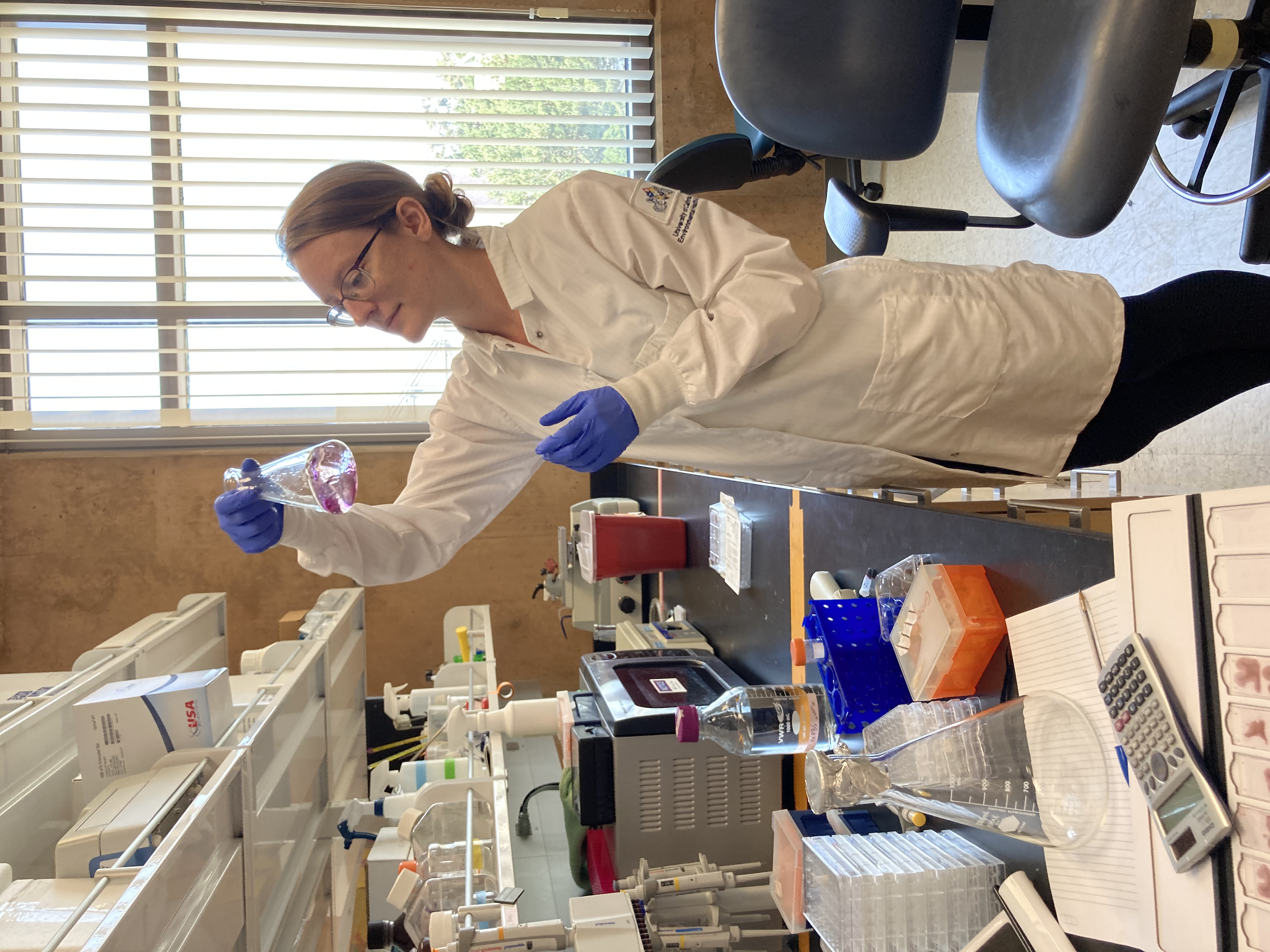 ARCS Scholar Amanda McQuade prepares H&E stain within an Erlenmeyer flask. The stain will help McQuade identify cells and other material when applied to brain tissue samples and placed under a microscope. Photo courtesy of Sepideh Kiani Shabestari, UCI Grad Student
Although the creation of an immunotherapy that specifically targets mutated TREM 2 cells is still decades away, Amanda hopes her research will show an alternate path to stop the progression of Alzheimer's Disease in patients. "I want to see what happens to the other proteins when TREM2 is not functioning," she explained. "My research includes the possibility of programming the body to ignore and 'bypass' the mutated TREM2 protein, stimulate another pathway, then 'trick' the cell into thinking it's getting TREM2 signals and hopefully fight the disease again."
Amanda's research has garnered attention in the scientific community. She became an ARCS Scholar Award recipient with ARCS Orange County Chapter in 2019. According to Amanda, the ARCS award helped her continue her research virtually during the COVID-19 pandemic in early 2020. "I require all this fancy equipment that I can't take home. However, thanks to ARCS, I was able to purchase special software that could analyze large datasets," she explained. "I was also able to 'attend' virtual conferences and share that data with other students and researchers, which is one of the most important parts of science."
ARCS Foundation wasn't the only organization interested in Amanda's revolutionary research. Earlier this year, the graduate student was presented with the Carl W. Cotman Award during UCI's 12th Annual Emerging Scientists Symposium for innovative research projects on Alzheimer's Disease and other neurological disorders. She also received a Junior Faculty Award from the International Conference on Alzheimer's and Parkinson's Disease.
Additionally, Amanda will receive UCI's 2021 James L. McGaugh Award in September. The award recognizes outstanding graduate student research conducted and published by students in the UCI Department of Neurobiology and Behavior.
Amanda will defend her PhD on August 19, but she won't have much time to celebrate. The ARCS Scholar will move to northern California in early September to begin her post-doctorate fellowship at UC San Francisco, where she will use the 2020 Nobel Prize award-winning CRISPR technology—genetic scissors that can literally cut and edit the DNA code of life.
In the future, Amanda plans to run her own lab and continue genetic research on several diseases, including Alzheimer's Disease.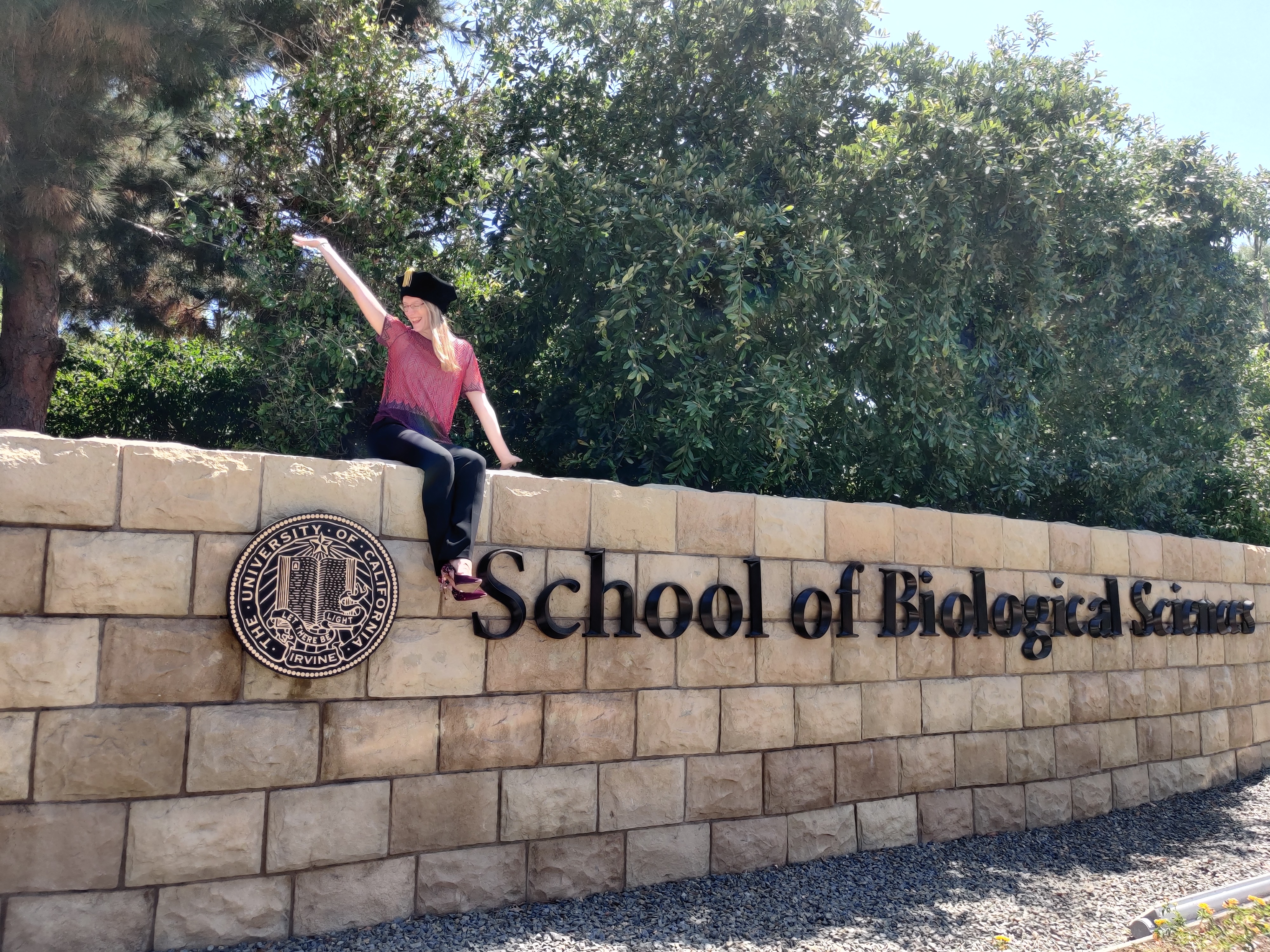 ARCS Scholar Amanda McQuade celebrates graduating from the School of Biological Sciences at the University of California, Irvine in June. Graduate students are often allowed to walk in graduation ceremonies before they defend their thesis. McQuade will defend her PhD on August 19. Photo courtesy of Amanda McQuade