Inequities in health care across cultures are something ARCS Scholar William Mundo understands very well.
As a child born in the United States to undocumented parents from Mexico, William and his family experienced disparities between their poverty-stricken Latin X community and access to health care from "big city" health clinics.
Now a fourth-year medical student at the University of Colorado, Anschutz Medical Campus, Mundo is using his childhood challenges to help people in similar situations. He shared his story in a recently published book, From Margins to Medicine: A First-Generation Student Health Equity Guide on Overcoming Adversity with Diversity.
"It's a guide for first-generation people to understand the importance of public health, and how it intersects with multiple areas of our society, such as education, transportation, the criminal justice system, and more," he explained. "I write about the social determinants of health, what it means and looks like in real life. I want the book to provide inspiration and hope for people who may be facing similar circumstances that I did as a child."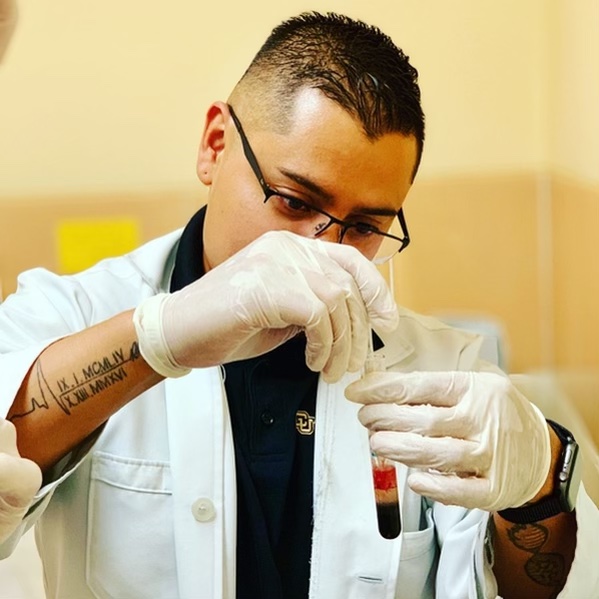 ARCS Scholar William Mundo working in the Maternal-Infant Hospital in Bolivia. Here he is extracting placental blood and preparing it to be analyzed for epigenetic biomarkers to explore the link between high-altitude fetal exposure and pulmonary hypertension. Photo courtesy of William Mundo
A Call to Action
Mundo grew up in the small, mountainous community of Leadville, Colorado, where access to affordable healthcare was hard to come by for his family and many of his neighbors who were also poor, undocumented immigrants.
His father was known as a "cuandero" or healer within the Latin culture. A young William remembers watching people come to their home, seeking medical care and advice from his dad. Those patients often paid Mundo's father with baskets of fruit or homemade goods. Money was scarce and fear of deportation, along with language barriers and cultural differences, kept many people, including Mundo's family, from seeking medical assistance at local health clinics.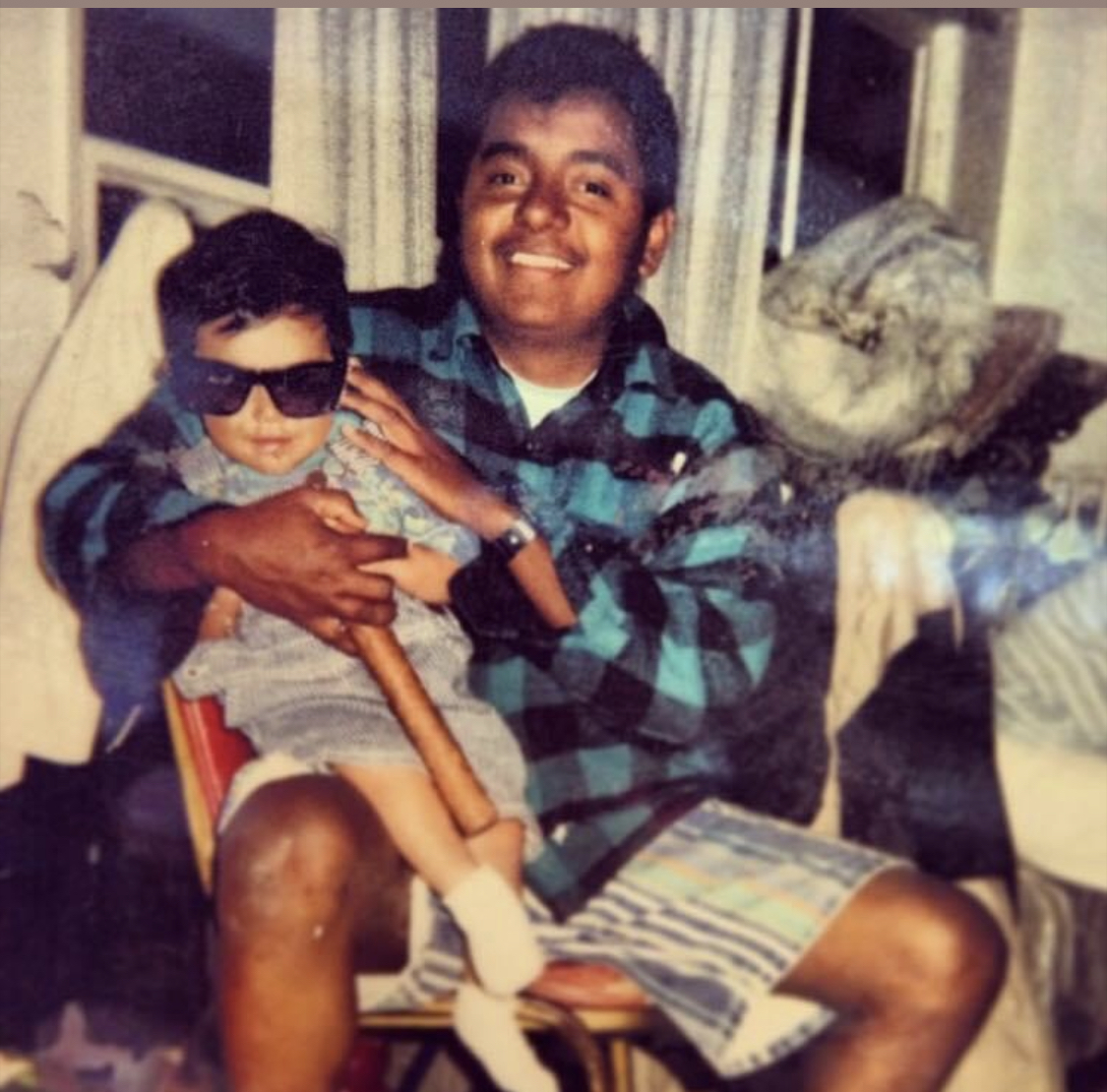 A young William Mundo sits on his father's lap. William's father was a "cuandero" – or traditional healer in the Latin X community. Sadly, William's father died shortly after his son started working on his undergraduate degree at the University of Colorado, Denver. The first step of William's dream of becoming a physician. Photo courtesy of William Mundo
As a young child, Mundo hoped to follow in his father's footsteps and help those who have limited access to health care.
Now, he's doing both. Currently, a fourth-year medical student, Mundo is studying to become a physician, specializing in emergency and academic medicine. The latter will allow him to conduct research on infectious diseases, global health, and public health policies.
Communities in Crisis
Mundo's research and childhood experiences served him well as COVID-19 swept across the nation in 2020.  
Mundo joined other physicians in studying how to diagnose and treat the virus—and discovered a trend in the case data. The infection and death rates from COVID-19 were higher in Latin X communities, Mundo said.
He and a team of colleagues set out to determine why people in Latin communities were both infected and dying at disproportionate rates compared to other areas. The team interviewed several Latin X patients who were hospitalized due to COVID-19.
According to Mundo, the results included factors, such as language and education barriers in learning about the virus, fear of not being able to pay for medical care and misconceptions of potentially being detained and deported.
"So, when patients became ill with COVID-19, many people stayed home and became sicker because they didn't have the necessary medicine and equipment, like a ventilator, to keep them alive," Mundo explained.
The team's discoveries were published in two separate papers, titled "Frontline Interdisciplinary Clinicians Perspectives on Caring for Patients with COVID" and "Experiences of Latinx Individuals Hospitalized for COVID."
The latter research project was published in the Journal of American Medical Association (JAMA) earlier this year. "The paper has already informed a lot of hospitals and clinics on how to approach conversations about COVID-19 with Latin X communities to help reduce the rate of infection. And hopefully, that translates to a reduction of mortality as well," he stated. 
A Promising Future
Mundo became an ARCS Scholar Award recipient in 2020. He said the ARCS award helped launch his career in research, specifically when it came to publishing his studies, including the article in JAMA.
"The ARCS Scholar Award was the catalyst to help me finish my articles and publish my research for others to read," he stated.
Mundo will graduate with a doctorate in medicine in May 2022. He will then move into the residency portion of his career, where Mundo hopes to continue bridging the gap between underrepresented communities and the healthcare system.