For most of her career as a planetary geologist, Ellen Stofan's focus was far away – to Venus, Mars, and Saturn's moon Titan. For twenty-five years she worked in key roles at space-related organizations, including NASA and the Jet Propulsion Laboratory. She was the first woman to be the John and Adrienne Mars Director of the Smithsonian's National Air & Space Museum.
Stofan's science focus has expanded since she was named Under Secretary for Science and Research at the Smithsonian in Washington, DC. She now oversees scientific initiatives and research across the large Smithsonian institution and has responsibility for several research centers and projects, in addition to leading the Natural History Museum and the National Zoo.
"My new job is amazing, as we go from the scale of genes to the scale of the universe. We have imaged black holes, learned how to help forests regenerate to store more carbon, and reintroduced species into critical habitats. Science helps make the world a better place, and at the Smithsonian we do the research, but also translate it into information to help engage the public," Stofan explains.
The Smithsonian's science studies span the globe. "The Smithsonian Environmental Research Center does such amazing research, looking at critical coastal ecosystems that are threatened by pollution, acidification, rising sea levels, and warming temperatures. We have a network of ocean sites around the world, called MarineGEO, where we are documenting how critical ocean environments are being affected by global change," Stofan says.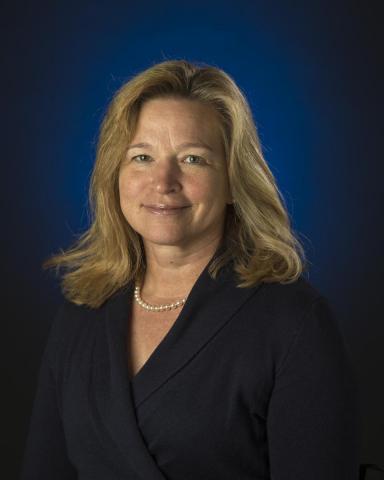 ARCS Member Ellen Stofan recently became
the Under Secretary for Science and Research
at the Smithsonian in Washington DC.
(Photo Courtesy: Ellen Stofan)
The Smithsonian work is continual, including documenting the COVID-19 pandemic. "We have put together a consortium of cultural organizations in an effort called "Vaccines and US," to educate the public about the history of vaccines, confronting why some communities may mistrust the medical establishment, and urging everyone to get vaccinated," Stofan says.
A member of the Metro Washington DC chapter, Stofan says that ARCS helps "to ensure that everyone has the opportunity to follow their dreams. We need to have our STEM fields look more like our population and we need pathways and pipelines to make that happen. ARCS helps make that happen."
"Advanced degrees are tough," Stofan says. "My daughter is applying to PhD programs and I will tell our scholars what I told her -- you better love what you do and love your topic, as advanced degree study can be frustrating and long -- and all of your peers are out in 'real jobs.' But you are learning things, meeting people, and gathering skills to put yourself into a position to help change the world."  
Stofan says that her professional career and transition into leadership was a long process. "I would have laughed if I knew where I would end up. I followed opportunities that seemed interesting and fun, trying new challenges, without realizing I was building a resume for leadership,' she says. "I always encourage my mentees to get out of their comfort zone and not regard their careers as a linear path."